AW & Sons Plumbing has been providing commercial and residential plumbing services to the greater San Clemente area for over 35 years. From its beginning in 1982, customer satisfaction has been a priority. Honesty, integrity and loyalty have been the principles upon which the business was built. So if you have been searching for a plumbing contractor near you;  please review a shortened list of our plumbing repair and installation services below.
Drain Cleaning & Repairs of All Types

Water Softener & Water Heater Installations

Kitchen Faucet, Garbage Disposal & Dishwasher Installations

Bathroom Faucet & Toilet Installations

Kitchen and Bathroom Faucet Installations

Sewer Repair including Relining
FOR SERVICE CALL 949-212-5002
PROVIDING
PLUMBING SERVICES IN SAN CLEMENTE, CA
AW & Sons is a family owned and operated plumbing business located in San Celmente. Over the years our customers have become like family. We value their loyalty and look forward to continuing to provide the very best in customer service.
Plumbing Repair
AW & Sons is able to take care of all of your plumbing repair needs from service lines to sewer lines and everything in between.
Plumbing Installations
We offer the full installation of hot water heaters, water softeners, dishwashers, faucets, toilets along with service and sewer lines.
Specialty Services
Will also provide plumbing specialties such as the descaling of tankless heaters, the hydro jetting of drains and the video inspection of sewer lines.
We have used AW & Sons for years and have never been disappointed. They are always reasonable in pricing and provide prompt service. Our latest need was a new water heater. Over the weekend we discovered our old water heater was leaking and by Monday afternoon, we had a new water heater installed.

If you are looking for a plumber in San Clemente
Call Us Today
Called on Christmas Eve hoping to get them out after Christmas for a water heater leakage problem. They got someone out within an hour of my call and was able to perform the repair in a quick and professional manner. Nathan was courteous and a pleasure to have here. My second experience with this company, both of which I have been pleased and satisfied with their work.

Looking for a plumber in San Clemente
Call Us Today
Very pleased. The plumber arrived on time. He was clean cut and professional in appearance. We had worried that this would be a major undertaking – but he was able to resolve our issue in less time and for less money than we anticipated. He provided a quote before starting and stuck with that price. We would most definitely recommend A.W. & Sons Plumbing.

In need of a Qualified San Clemente Plumber
Call Us Today
Everything was professional and responsive from the very start. No run-around just a quick and accurate estimation of what needed to be done and quality work. I have had some bad experiences in the past with other plumbers but I have to say that I will ONLY use AW and sons in the future. Awesome!!

Searching for a reliable plumber in San Clemente
Call Us Today
Present any of these coupons to your AW & Sons professional at the time of service to receive a discount.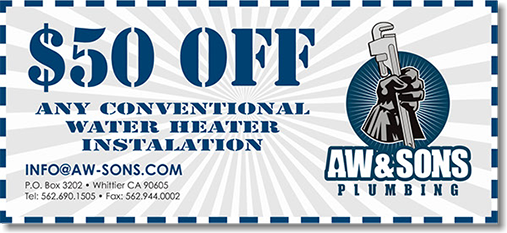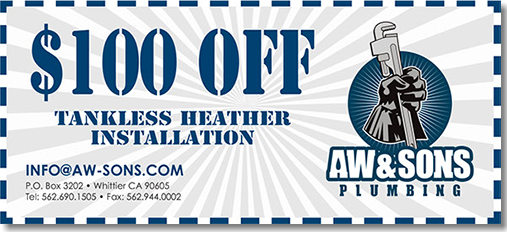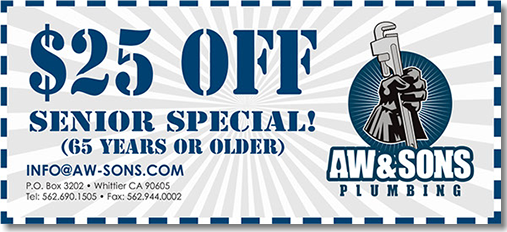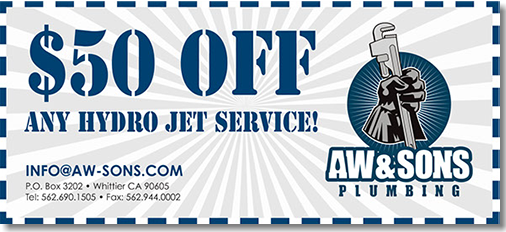 We are full service plumbers in San Clemente,  our technicians are California state licensed and can provide installations, repairs and remodeling for both new homes and established homes.